COVID-19 Resources
Page updated regularly. See also: Upcoming and Recent PCCB Faculty Publications and Presentations at PCCB Faculty Address COVID-19 Crisis
UPCOMING:
Catholic Ethics and the Challenge of COVID-19
A complimentary webinar series co-sponsored by the Catholic Health Association and Georgetown University in cooperation with the Pellegrino Center for Clinical Bioethics.
May 7, 14, 21, 28, 2020
1 – 1:30 p.m. ET
Upcoming Topics:
May 7: Moral Distress on Caregivers and Patients Dying Alone – Sarah Vittone, RN, DBe and Claudia Sotomayor, MD, DBe
May 14: Pandemic Public Surveillance – Issues of Prevention, Protection, and Privacy – James Giordano, PhD, MPhil
May 21: The Role of Medical and Nursing Students in a Pandemic – David Miller, PhD and Sarah Vittone, RN, DBe
May 28: Personal Contact Tracing of COVID Patients- Daniel P. Sulmasy, MD, Ph.D., MACP and Robert Veatch, Ph.D
More information and registration
---
April 30 Powerpoint, Recording, and Program: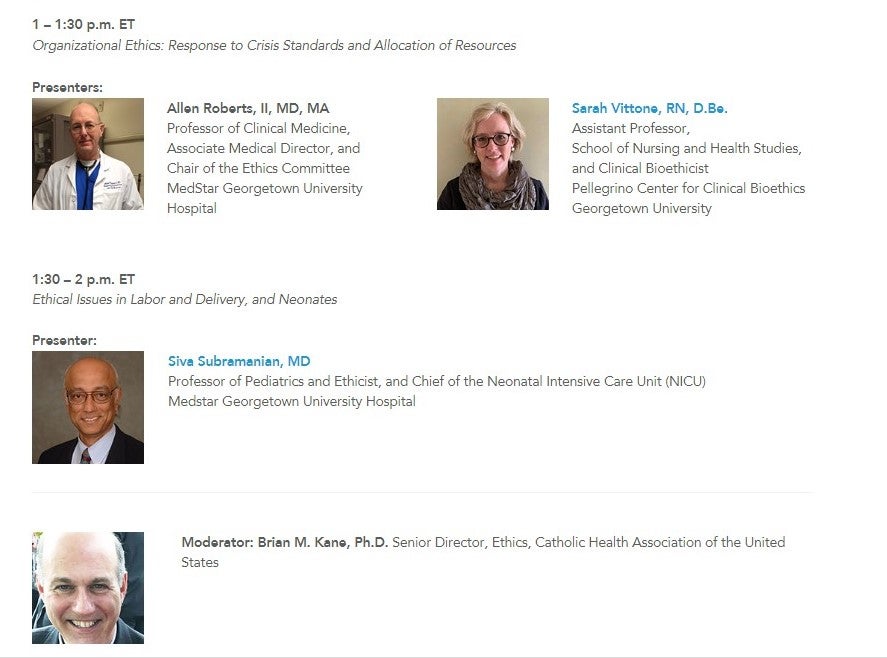 April 23 Powerpoint, Recording, and Program: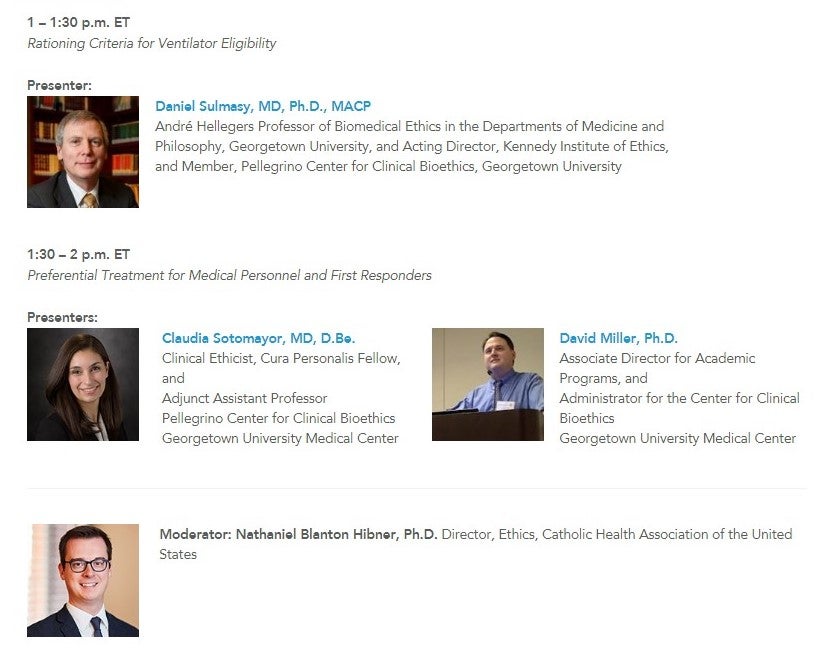 April 16 Powerpoint, Recording, and Program: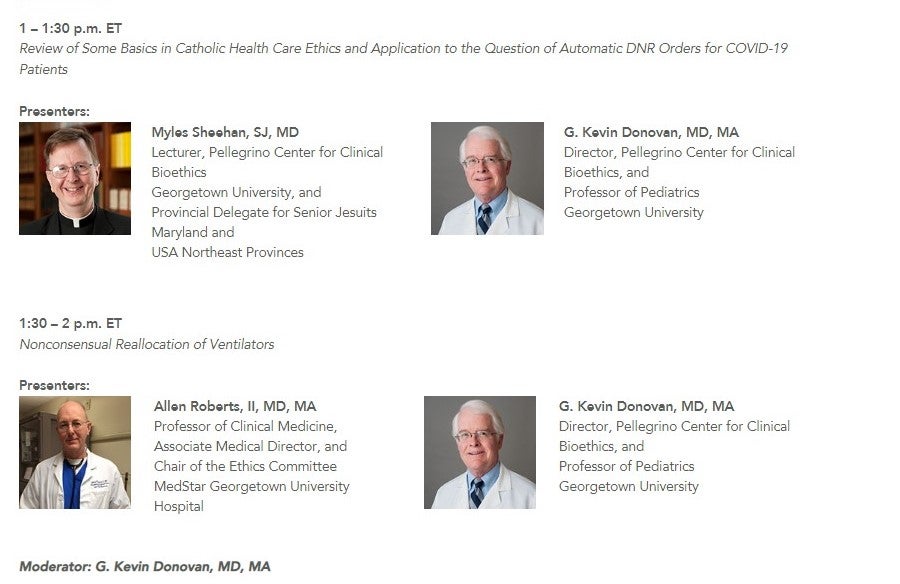 Powerpoint/PDF: Ethical Principles of Resource Allocation In the Event of an Overwhelming Surge of COVID-19 Patients. The principles will guide Georgetown University Medical Center in allocating scarce resources in the face of a potential overwhelming surge of cases of COVID-19. (Powerpoint) (PDF)
White Paper: The ERDs and the Maryland Framework for the Allocation of Scarce Life-Sustaining Medical Resources in the COVID-19 Pandemic by PCCB Director G. Kevin Donovan MD, MA
Webinar Recording: "Bioethics in the Time of Coronavirus" — MGUH POCUS Webinar April 2, 2020. A discussion of bioethical issues related to delivery of care during the COVID pandemic. Presented by Dr. Dan Sulmasy, PCCB Faculty Member and Acting Director of the Kennedy Institute of Ethics; Dr. Kevin Donovan, Director of the Pellegrino Center for Clinical Bioethics at Georgetown University; and Dr. Allen Roberts, Chair of the Clinical Ethics Committee at Georgetown University Hospital.
COVID-19 Research Resources at the Bioethics Research Library