Abigail Rian Evans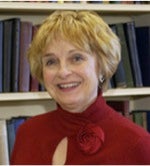 Abigail Rian Evans, M.DIV., PH.D., L.H.D.
Adjunct Professor, Family Medicine
Georgetown University Medical Center
Dr. Evans has over twenty-five years of experience in the development of innovative approaches to health and wellness. She has drawn widely from the disciplines of psychology, psychiatry, religion and spirituality and has been instrumental in developing effective new approaches for the delivery of health care in her extensive writing and lectures.
Currently she is a senior scholar-in-residence at the Center for Clinical Bioethics and adjunct Professor, Dept. of Family Medicine at Georgetown University Medical Center as well as emerita professor of Princeton Theological Seminary. During her tenure at Princeton from 1991-2009, Abigail served as Charlotte Newcombe Professor of Practical Theology, Chair of the Practical Theology Department., and Director of the Intern and Clinical Pastoral Education programs.and taught 12 different courses on bioethics, pastoral care and health care issues.. She was an adjunct Clinical Professor of Medicine in the Department of Psychiatry of the Robert Wood Johnson Medical School.
Earlier, Abigail was the Founder and Director of Health Ministries for the National Capital Presbytery that comprises 118 churches in Metropolitan Washington, DC area. She was one of the early leaders of the Faith Community Nurses and Health Ministries Association. She previously served as the Director of New Programs and Senior Staff Associate, Kennedy Institute of Ethics, Georgetown University, Chaplain of Columbia University, Synod Executive, and pastored churches in five states and Brasil.
Dr. Evans is widely known as a dynamic and compelling speaker and teacher both domestically and internationally. She has spoken across the United States and as well as in England, Scotland, Wales, Switzerland, Germany, Brazil, Thailand and Puerto Rico in medical centers, churches, seminaries, conferences, universities and interfaith workshops. She has served as a consultant to many scientific and research institutes including NIH, American Association for the Advancement of Science, National Alzheimer's Association, Office of Substance Abuse Prevention and George Washington and Georgetown University Animal Care Committees.
Her areas of expertise include bioethics (Georgetown University); addiction prevention (Robert Wood Johnson Medical School); spirituality and wholistic health (Princeton Theological Seminary); aging (National Interfaith Coalition on Aging); ecumenical initiatives (Columbia University); managed care (Royal Society of Medicine); reproductive rights (Presbyterian Health, Education and Welfare Association); and health care reform (Clinton Health Care Task Force). She has created many new initiatives and raised funds for projects in these areas.
During her career, she wrote a comprehensive report developing a strategy for the collaboration of the National Council on Aging and Faith Communities that is currently being implemented;, She co-authored the Ethical Foundations concept report for the Clinton Administration's Proposed Health Care Reform and prepared a critical review of contemporary medical practices (published under the title Redeeming Marketplace Medicine). Her books include Is God Still at the Bedside? Medical ,Ethical, and Pastoral Issues in Death and Dying; The Healing Church and Healing Liturgies for the Seasons of Life, and dozens of bioethics book chapters and articles; She set precedent as the first female in almost every position she occupied including as a chaplain at Columbia University and Chair of the Practical Theology Department at Princeton Seminary.
She was one of the early feminists and women's advocate in all areas of society. Her many honors include: Who's Who In Theology and Science, Who's Who in America, and recipient of US House of Representatives Proclamation (2017) in appreciation of her outstanding contributions in health care and women's advocacy work.
She has a Ph.D. in Philosophy and Bioethics from Georgetown University, a M.Div. from Princeton Theological Seminary; a Diploma from Escola de linguas e orientação, Campinas, Brasil and graduate studies in theology at the University of Basel, Switzerland, B.A. Jamestown College magna cum laude.
General profile
Phone: +1 703-277-7073
Email: age3@georgetown.edu
Location: 324 Building D