Medicine After the Holocaust: Knowledge for Today – March 23, 2016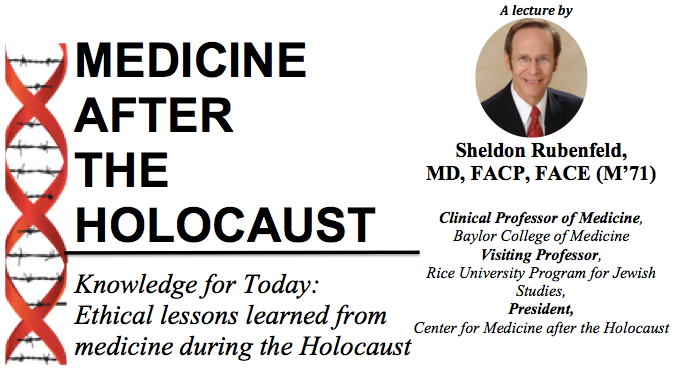 MARCH 23, 2016
5 p.m. Wine & Cheese Reception
5:30 p.m. Lecture and Q&A
SW107 Med Dent Building, Georgetown University Medical Center
RSVP to Marti.Patchell@georgetown.edu
Join the Pellegrino Center for Clinical Bioethics and Georgetown University School of Medicine for an evening with Sheldon Rubenfeld, MD, FACP, FACE (M'71).
Dr. Rubenfeld is Clinical Professor of Medicine at Baylor College of Medicine, Visiting Professor at Rice University Program for Jewish Studies, and President of the Center for Medicine After the Holocaust.
The lecture, Medicine After the Holocaust: Knowledge for Today, is a reflection on medical ethics of the Holocaust and lessons learned for modern medicine and research — lessons that can inform a medical community that is better equipped to do no harm.
For more information on the Center for Medicine After the Holocaust, visit: http://www.medicineaftertheholocaust.org
CONNECT WITH PCCB FOR UPDATES ON EVENTS AND PUBLICATIONS