Dr. John Collins Harvey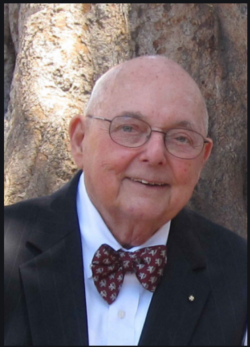 John Collins Harvey, MD, PhD (1923-2017) was born in Youngstown, Ohio in 1923. He was educated at Phillips Exeter Academy, Yale University, and the Johns Hopkins Medical School. He did his postgraduate study in Internal Medicine at the Johns Hopkins Hospital on the Osler Medical Service and served on the medical faculty at Hopkins for 20 years, rising to the rank of Professor, before he was called to be Professor of Medicine at Georgetown University in 1973. He taught and practiced medicine at Georgetown University and the Georgetown University Hospital for 27 years.
Dr. Harvey had a longstanding interest in medical ethics which began when he was in medical school. As a consequence of this interest, before stepping down from the Department of Medicine while still teaching and practicing medicine, he prepared himself to teach medical and bioethics by obtaining a Ph.D. in moral theology from St. Mary's Seminary and University in Baltimore in 1988. He then joined the Center for Clinical Bioethics in 1989 as a full-time volunteer faculty member and remained close to the Center's activities until his death in 2017.
Early in Dr. Harvey's career his bench research focused on diseases of skeletal muscle. This led to his interest in studying functional capacity in individuals with muscular disease, rehabilitation and gerontology and geriatrics. Because of these interests, he served on many medical advisory committees at the local, national, and international levels. He was one of the founding council members of the Institute on Aging of the National Institutes of Health.
On the international scene, he served as a visiting professor of medicine at the University of Ibadan, Nigeria; Guy's Hospital Medical School, London; and Cambridge University. He was on the Medical Advisory Committee of the Congregation for the Causes of Saints of the Holy See and for ten years he served as the Secretary of the International Study Committee on Bioethics for the International Red Cross and the Order of Malta, for refugees from the genocide in Cambodia. For this, he was honored by Pope John Paul II who conferred on him membership in the papal order of St. Gregory the Great. He authored over 130 published articles and book chapters. He was the author or co-editor of five books all on various aspects of medicine and bioethics and was a frequent lecturer at medical and bioethics conferences in this country and abroad. He was a member of Phi Beta Kappa, Alpha Omega Alpha, and Sigma Xi honorary societies. Among his honors are memberships in the Society of Scholars of the Johns Hopkins University and mastership in the American College of Physicians and honorary degrees from Barry University, LLD, and Georgetown University, LHD. He was the Garlington Lecturer at the Johns Hopkins Medical School in 1991. Dr. Harvey became a professed religious in the Knights of Malta before his death. Dr. Harvey was married for 60 years to Adele Dillon. They are survived by 5 children and 11 grandchildren.