Your Health: A Sacred Matter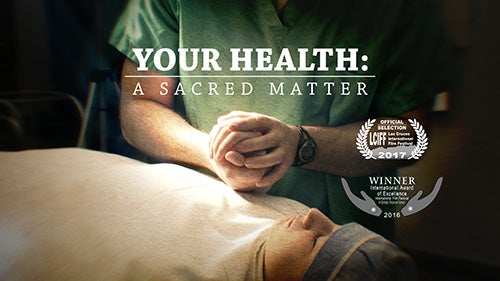 A Documentary by
Gerald Krell, Meyer Odze and Adam Krell
Auteur Productions, Ltd.
Supported by funding from The John Templeton Foundation
CME Consultant:
Daniel Sulmasy, MD, PhD
André Hellegers Professor of Biomedical Ethics
Georgetown University, Washington, DC
www.yourhealthasacredmatter.com
---
The two-hour feature documentary "Your Health: A Sacred Matter" depicts a comprehensive overview of the relationship between religion, spirituality, and health. "Your Health" examines the past and present role religion and health have played in Western medicine. The film tells the personal stories of doctors, nurses, patients, chaplains, and caregivers as they explore life's important questions:
What connections between religion, spirituality and health are increasingly common in contemporary society?
What is the role of religion and spirituality in healers' lives and their approach to healing?
How are modern biomedical investigations into mind/body connections challenging conventional views about religion & spirituality in the West?
How do modern healers respond to their multicultural clientele?
The running time for this documentary is 117 minutes. Those physicians, nurses, and pharmacists who watch it can apply for CME/ CEU credits.
---
Continuing Education Credit Information
Accreditation
In support of improving patient care, MedStar Health is jointly accredited by the Accreditation Council for Continuing Medical Education (ACCME), the Accreditation Council for Pharmacy Education (ACPE) and the American Nurses Credentialing Center (ANCC), to provide continuing education for the healthcare team.
Credit Designation
This activity was planned by and for the healthcare team, and learners will receive 2.0 Interprofessional Continuing Education (IPCE) credits for learning and change.
Objectives
After watching this documentary the learner will be able to:
Describe the relationship between spirituality and health outcomes.
Name the settings in which chaplains can serve patients and staff.
Begin to inquire about the spiritual needs of patients.
---
Upon completion of the module, please email MaryKate Brueck at mab474@georgetown.edu to receive credits. You will receive more information on receiving CME credits at the end of the module.